THE PAINFUL STORY OF THALASSEMIA PATIENTS – MASTER SUJIT NAYAK  AND MASTER AMIT NAYAK


DURING THE COVID-19 PANDEMIC LOCK-DOWN PERIOD
SITUATION
The Lock down situation of the Covid-19 Pandemic in Odisha, especially in Bhubaneswar, made many lives vulnerable and pathetic. Many suffered from hunger, stress and struggled for survival. The socio-psychological conditions of people including many patients became worst. Most victims were hopeless and were under stress. Again, the unprecedented lockdown scattered many relations and emotions and forced many to live in misery and isolation. Most stories of their undisclosed sufferings were tearful and heart breaking.
While serving the distressed, our team came across two children (Master Amit Nayak, aged about 10 years and Master Sujit Nayak, aged about 08 years) who had been suffering from Thalassemia, since birth. Their father Sri Raj Kishore Nayak was a truck driver and the resident of Dhalapur, District-Dhenkanal. He came to the capital Govt. Hospital, Bhubaneswar for the blood transfusion of his two children and became the victim of the Covid-19 pandemic Lock Down.
The initial Lock Down was planned for a day and then extended for weeks and then for a months. The unprecedented Lock Down added woes and sufferings to many. All hotels, public transports and other establishments were completely closed down for an uncertain time. That affected many lives. Many including Rajkishore and his two children became the victims.
While serving the Victims of Covid-19, we found them in a precarious condition. They were out of money and were struggling for food, clothes and other survival requirements. In addition, they were struggling to arrange donors for the blood exchange and transfusion.
"Life during Covid-19 Lock Down is precarious. We are struggling for survival. Hotels and other shops are closed down and we are facing difficulties in arranging food for the survival. My children have not eaten anything since 2 days. Fortunately I met and informed Shradhanjali about our problems; who arranged everything for our survival and also their members donated blood   and saved the lives of my 2 sons. " I wish all the best to the Shradhanjali NGO and to it's volunteers for such noble works.
       RAJ KISHORE NAYAK
   THE FATHER OF SUJIT & AMIT NAYAK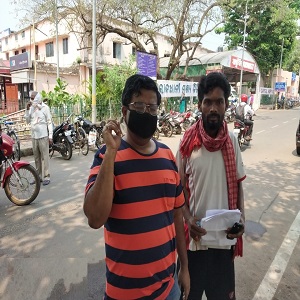 VOLUNTEERS OF SHRADHANJALI SUPPORTED RAJKISHORE & HIS CHILDREN AND DONATED BLOOD
ACTION
Immediate action was taken to support the victims.

They were provided with Food, Masks, Sanitizers, Clothes and other basic requirements for their survival.

Supported with money for their day to day expenses.

Arranged blood for his children suffering from thalassemia.

Provided psychological and moral strength and supports to the victims

Our volunteers were in regular touch with the family for any further support.
IMPACT
Blood Transfusion was successfully done.

Two lives were supported.

Supported with Food, Clothes and Other Basic Requirements to make the victims stress free and comfortable.

Our support strengthened the victims morally to fight against the odds and the adverse conditions during the lock down of Covid-19 pandemic.