FROM CURSE TO BLESSINGS


AN ATTEMPT TO CHANGE PERCEPTIONS ABOUT PEOPLE WITH DISABILITIES
SITUATION
Shibani, a 16 years old disabled girl used to live in a Goudagotha village of the Soroda Block, District-Ganjam, Odisha. Her father was a daily wages labourer. Shibani was disabled from her birth. Her bottom half of the body was not properly functioning; as a result she was completely dependent upon her family members for all her daily living activities. She was under depression because of her physical limitations and social isolation. Because of her disability, the family was considering her as a curse and liability and was neglecting Shibani.
Our volunteers identified Shibani in a community outreach camp held at the Soroda Block office; where Shibani and her father Mr. Jahara Mallik came for a Unique Disability Id Card ((UDID Card) registration. Immediately Shibani and her father were brought respectfully to our counselling room for a thorough counselling. After counselling, a detailed medical checkup such as physio-therapy, audiometry, speech-therapy, eye check-up and general medical checkups and assessments were conducted for Shibani to identify her strengths. Finally our experts found that except the lower part of Shibani's body all other organs are functioning properly. Our specialists also found Shibani is capable enough to read and write. Immediately we brought the case to the attention of the concern Block Development Officer (BDO).
"This girl is a curse to our family. I am afraid why is she not dying. I want to become free from the liability and wish to donate this disabled girl to anyone to get rid of the burden".
    JAHARA MALLIK
    (THE FATHER)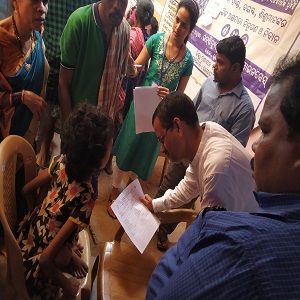 INTERACTION OF THE BDO, ABDO & OTHER OFFICERS WITH SHIBANI & HER FATHER
ACTION
We Informed the case to the concern BDO ; as a result BDO and the Addl. BDO of her block i.e. Sorada and other officers rushed in to the camp site, met Shibani and enquired about the difficulties that Shibani was facing.

The BDO personally investigated all her issues and assured to extend all possible help and support to Shibani; so that she could lead a life with dignity.

A Provisional Persons with Disability (PWD) Certificate was issued to Shibani at the camp site and her name was registered for the Unique Disability Id Card ((UDID Card)

At the camp site Shibani was provided with all her immediate requirements like Clothes, Dry Ration, Money and Other essential items.

Further, Shibani's issues were referred to the knowledge of the District Magistrate, Ganjam.
IMPACT
The BDO assured for all possible help for Shibani.

Just after 6 days of our referral, the District Magistrate, Ganjam met Shibani and her family.

The District Magistrate, Ganjam gifted Shibani with a Tri-cycle for her physical movement.

Permanent PWD Certificate was issued to Shibani by the District Social Security Officer, DSSO office, Ganjam.

All benefits for which Shibani was entitled for were recommended by the District Administration.

Shibani's file was referred to the SSEPD, Ganjam for initiating and processing for monthly pension for her survival.

The BDO assured to take care of Shibani's future education and to fulfill all other requirements to make her comfortable and to lead a life with dignity.