OUR PEOPLE, OUR SOCIETY AND OUR RESPONSIBILITY
A STEP TOWARDS HELPING LEPROSY PEOPLE
SITUATION

Even today, when leprosy is curable, the age-old stigma attached to the disease has not been rooted out from the minds of the people. Stigma creates many hindrance in the lives of the people affected by leprosy; thus hamper their physical, psychological, social and economic well-being. Lack of knowledge and information, age-old beliefs, fear and shame etc. support stigma. Stigma leads to irrational behavior towards people affected by the disease. It is hurtful and leads to discriminatory practices. A large chunk of people still believe that leprosy is inflicted by a divine curse. People affected by leprosy are avoided; as they are assumed to be sinners, and those around them do not want to incur god's wrath or go against the celestial punishment, by helping the leprosy infected people. Even today, leprosy strikes fear in the minds of people as a disfiguring, contagious and incurable disease – the result of divine punishment for sins. The society continues to stigmatize and discriminate against people affected by leprosy.
Leprosy was once feared as a highly contagious and devastating disease, but now we know it doesn't spread easily and treatment is very effective. Despite effective treatment, leprosy is one of the world's most stigmatized diseases, and people living with leprosy-related disabilities in many countries are shunned, denied basic human rights, and are discriminated. The stigma affects the well-being of those with leprosy, contributing to the cycle of poverty in the affected regions.
Shradhanjali took initiatives in four major Leprosy Colonies in Bhubaneswar, namely; Ramakrushna, Gokhibaba, Netaji and Jagannath. We visited to those colonies, organized Community Outreach Camps, supported to register and enlist their names for the procurement of their Unique Disability Identification Card (UDID) and handed over their details to the District Social Security Officer, SSEPD Department, Khordha and made necessary communications with the concerned Govt. officials to help those vulnerable people to avail the Govt. benefits.
Life of a Leprosy Person is very difficult. Social boycott affects us more than the pain from the disease. People hate us, feel reluctant to interact with us and avoid coming to our colony. Most of the time, people even do not realize our problems. We are helpless and are leading a miserable and pathetic life. And we have to live like this till the end of our life.  Living in such a condition is really painful but do not see anything beyond this.

            SAUNI BEHERA,
RAMAKRISHNA LEPROSY COLONY, BHUBANESWAR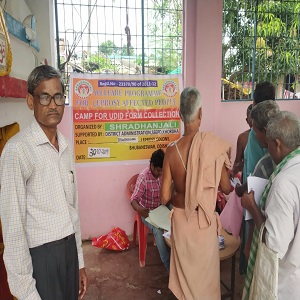 ORGANIZED COMMUNITY OUTREACH CAMP IN THE LEPROSY COLONIES
ACTION
Community Outreach Camps were organized in those Leprosy Colonies and attempts were made to collect maximum information of their vulnerability.

All total 111 numbers of Leprosy Cases were identified and their names were suggested to the District Administration, Khurda to issue the Unique Disability Identification Card (UDID)

Requested the District Administration to provide maximum support to the affected people.

Individual Counselling sessions were done to find out the real problems of those People.

Media Advocacy was initiated.

Volunteers tried to understand the real difficulties of those leprosy infected people. Those victims were supported, encouraged and were informed about their rights.
IMPACT
After Shradhanjali's initiatives, the district administration immediately enrolled names of those Leprosy infected people and extended their supports.

Those Identified leprosy infected people were invited by the SSEPD Department, Govt. of Odisha to a special programme; where they were provided with their basic requirements like Utensils, Cooking Pots, Blankets, basic amenities and medicines.

UDID registration was successfully done; which can be used across India to avail all Govt. Schemes and Benefits.

For the noble cause, the honourable Minister, SSEPD, Odisha and District Magistrate, Khurda felicitated Shradhanjali in a Special Occasion.

Those vulnerable people also got an opportunity for a direct interaction with the District Level Govt. officers such as DSSO, BDO and Medical Officers; where they openly discussed about their problems and challenges. Many of their issues were addressed and the District Administration assured them to provide all possible help and supports to avail all Govt. Schemes and benefits.