AN ATTEMPT TO CHANGE COMMUNITY ATTITUDE TOWARDS EDUCATION
THE STORY OF A NEGLECTED COMMUNITY CHILD
SITUATION
RANJAN RASHMI SWAIN , a 7 years old boy was found neglected by his family because of the poverty and ignorancy. His father Mr. Mohan Swain was a mason and was the only earning member of his family. Ranjan was the eldest son and was not attending the school. The decision maker of his family was Ranjan's Grand Mother Mrs. Sulachana Swain who had a perception- " investing time and money on education is a wastage."
One day, a team member of Shradhanjali came across Ranjan, and saw him playing with other children in his village. The member wanted to know whether Ranjan was going to School? On that question, his grandmother replied- "School! We do not want to waste our money and time by sending Ranjan to the school. We are poor people. By the way, Ranjan has to follow the profession of his father when he will be grown up; then what is the use of educating him"?
Few days after, a senior member of our NGO and our counsellors visited Ranjan's home located at Jhinkrimala and were able to convince his family to bring the boy to Oxford International School, being run by the Organization. Next day Ranjan was admitted into the school where he was given personal attention and was taken care of for all his requirements such as books, stationery etc.
We are poor. I think investing money & time on education is a useless business for a family like ours. Further, after completing his education, Ranjan has to follow his father's profession & will become a mason. I do not see any logic behind sending my grandson to the school. Why should we waste time and money on his education?
       MRS. SULACHANA SWAIN
   ( RANJAN'S GRAND-MOTHER)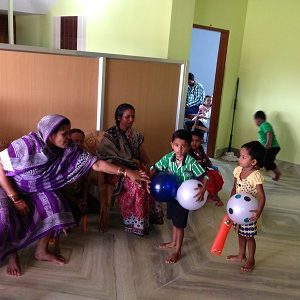 INVOLVEMENT OF RANJAN'S GRAND MOTHER IN THE SCHOOL TO CHANGE COMMUNITY ATTUTUDE & ADVOCACY FOR EDUCATION.
ACTION
Ranjan was admitted in to the Oxford International School, being run by

Initially Ranjan was irregular to the school. But with the help of our play way method we were able to create enthusiasm in him to become regular to the school.

Regular counseling helped to change the attitude of Ranjan's family members towards the education. And after three months Ranjan was found regular to the School.

Special attention was given to him and counseling for his parents were conducted in regular intervals.

Periodic follow ups were done to bring Ranjan's education standard at par with his other class mates.

All possible supports like reading materials, note books, pencils, pens, papers and stationeries were given to Ranjan in order to encourage his family to send him to the school.
IMPACT

A child's life was saved from becoming an illiterate.

Ranjan performed well in his class, which had a positive impact on other community people and created consciousness among other community members towards the benefits of education.

Attitude change of the Community Members towards education was possible.

Children friendly school environment created enthusiasm among the pupils to be regular to the School.

Play way method attracted and encouraged many other community people to send their children to take up education.