Shradhanjali focuses on an Integrated Model of Health Care for Women, Children, Aged, Disabled, Distressed, Under-privileged, Weaker and Downtrodden Sections of society. Our thematic areas include Maternal & Newborn Healthcare Services, Young Peoples' Reproductive Sexual Health & Rights (YRSHR), and Communicable Diseases like TB, HIV / AIDS, Hepatitis B & C and Non Communicable Diseases (NCD) such as Cardiovascular Diseases, Diabetes Mellitus, Chronic Obstructive Pulmonary disease, Cancer etc.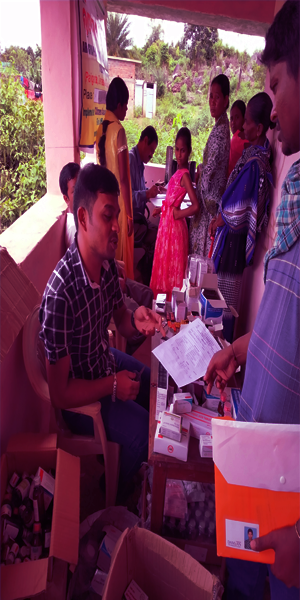 MAJOR ACHIEVEMENTS

Community people were sensitized on Health Issues. Early detection of various diseases helped many patients to take Preventive Measures to Stay Healthy.
---

Awareness camps on Communicable and Non-communicable diseases were held which helped the community and the people for Early Detection and Cure.
---

Multi-Speciality Community Outreach Health Camps were conducted in various Remote, Tribal and Backward Districts of Odisha.
---

CDMO-PHO of various backward & tribal populated districts supported with Free Medicines Dispersions to Young Girls, women, Old Aged , PWDs and Poor People and instructed the NHM-Mobile Health Unit to support our Community Outreach Activities, wholeheartedly.
---

Information Education Communication (IEC) activities were conducted on various Health Issues. Special attention and emphasis was given and rendered to Young People, Women, Child, Aged , PWDs & Poor People.
---